Servoine press machine
Product Detail
Product Tags
| | | | | | | | | | | | | | | |
| --- | --- | --- | --- | --- | --- | --- | --- | --- | --- | --- | --- | --- | --- | --- |
| Model | Maximum pressure (KN) | Frequent trip (mm) | Force resolution (mm) | Displacement resolution (mm) | Weight is about (kg) | Maximum speed (mm / s) | Repair speed (mm / s) | Pressure range (KN) | Boot time (s) | Positioning accuracy (mm) | Pressure accuracy (% F.S) | Closed mode height (mm) | Throat (mm) | Appearance size * width * height (mm) |
| PJL-S/10KN -200mm/100v | 10 | 200 | 0.005 | 0.001 | 300 | 100 | 0.01-35 | 50N-10KN | 0.1-200 | ±0.01 | 0.5 | 350 | 225 | 600*450*2120 |
| PJL-S/20KN -200mm/125V | 20 | 200 | 0.005 | 0.001 | 350 | 125 | 0.01-35 | 100N-20KN | 0.1-200 | ±0.01 | 0.5 | 350 | 225 | 600*636*2100 |
| PJL-S/30KN -200mm/125V | 30 | 200 | 0.005 | 0.001 | 380 | 125 | 0.01-35 | 150N-30KN | 0.1-200 | ±0.01 | 0.5 | 350 | 250 | 700*500*2300 |
| PJL-S/50KN -150mm/125V | 50 | 150 | 0.005 | 0.001 | 600 | 125 | 0.01-35 | 250N-50KN | 0.1-200 | ±0.01 | 0.5 | 350 | 250 | 700*500*2330 |
| PJL-S/100KN -150mm/125V | 100 | 150 | 0.005 | 0.001 | 650 | 125 | 0.01-35 | 500N-100KN | 0.1-200 | ±0.01 | 0.5 | 350 | 300 | 760*900*2550 |
| PJL-S/200KN -150mm/80V | 200 | 150 | 0.005 | 0.001 | 800 | 80 | 0.01-20 | 1000N-200KN | 0.1-200 | ±0.01 | 0.5 | 350 | 300 | 800*950*2750 |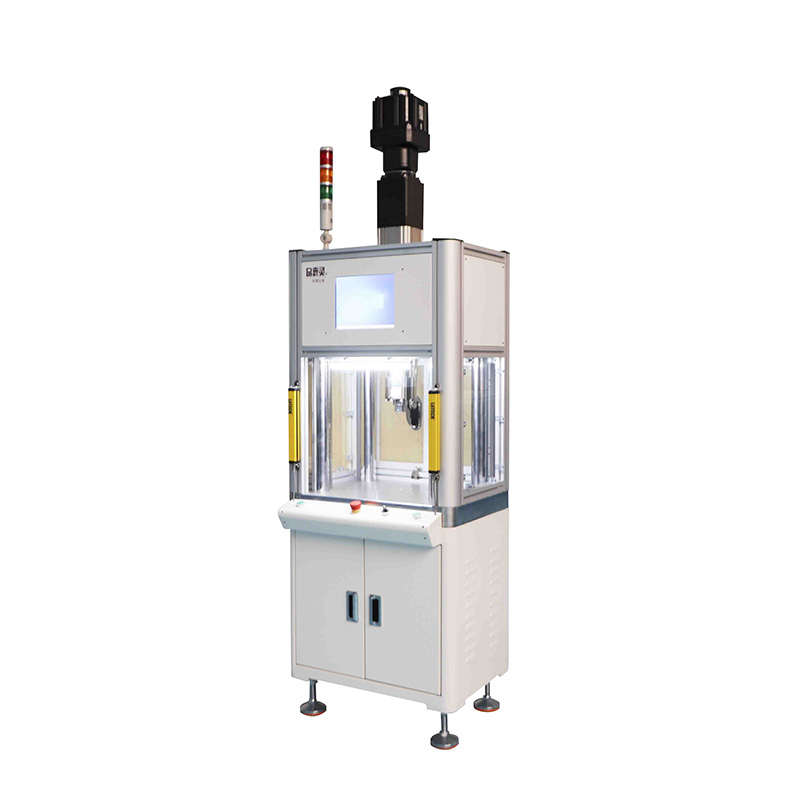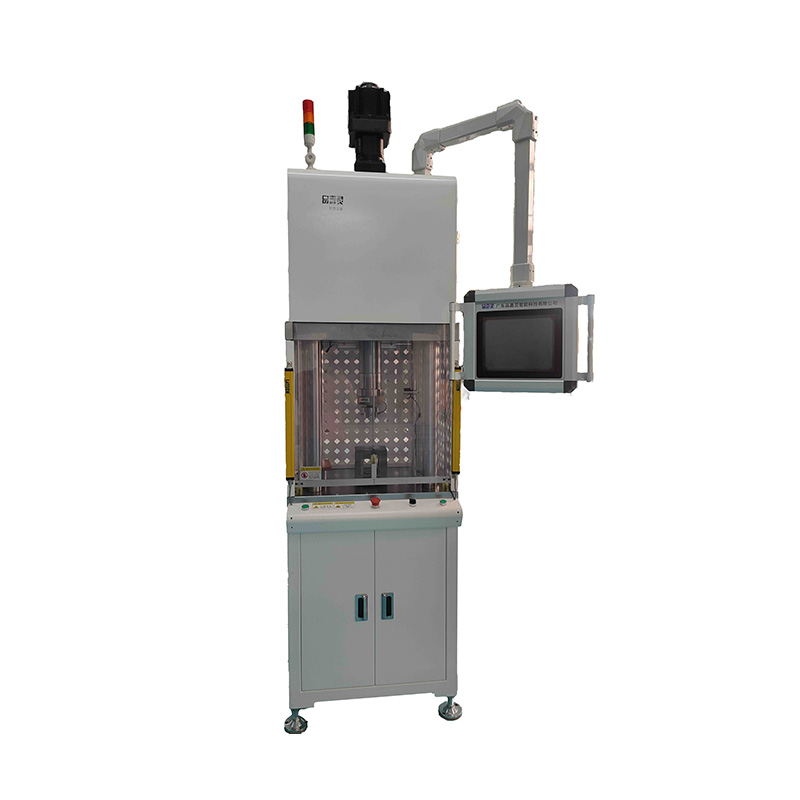 | | | | | | | | | | | | | | | |
| --- | --- | --- | --- | --- | --- | --- | --- | --- | --- | --- | --- | --- | --- | --- |
| Model | Maximum pressure (KN) | Frequent trip (mm) | Force resolution (mm) | Displacement resolution (mm) | Weight is about (kg) | Maximum speed (mm / s) | Repair speed (mm / s) | Pressure range (KN) | Boot time (s) | Positioning accuracy (mm) | Pressure accuracy (% F.S) | Closed mode height (mm) | Throat (mm) | Appearance size * width * height (mm) |
| PJL-C/5KN -100mm/150v | 5 | 100 | 0.005 | 0.001 | 200 | 150 | 0.01-35 | 25N-5KN | 0.1-200 | ±0.01 | 0.5 | 250 | 120 | 580*560*1900 |
| PJL-C/10KN -100mm/100v | 10 | 100 | 0.005 | 0.001 | 260 | 100 | 0.01-35 | 25N-10KN | 0.1-200 | ±0.01 | 0.5 | 250 | 120 | 545*635*2100 |
| PJL-C/2KN -100mm/125v | 20 | 100 | 0.005 | 0.001 | 280 | 125 | 0.01-35 | 100N-20KN | 0.1-200 | ±0.01 | 0.5 | 250 | 120 | 545*536*2100 |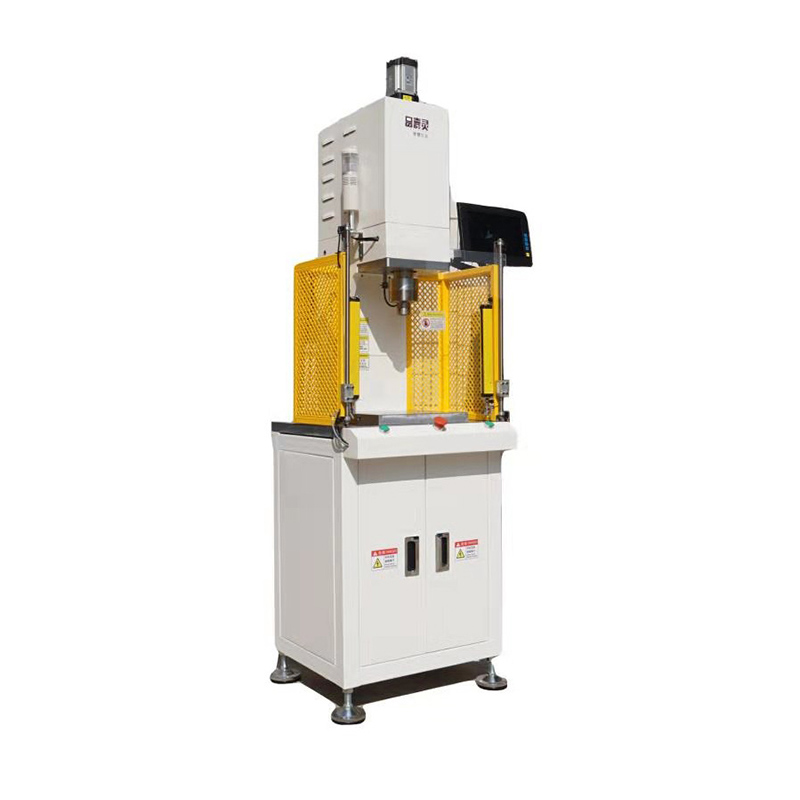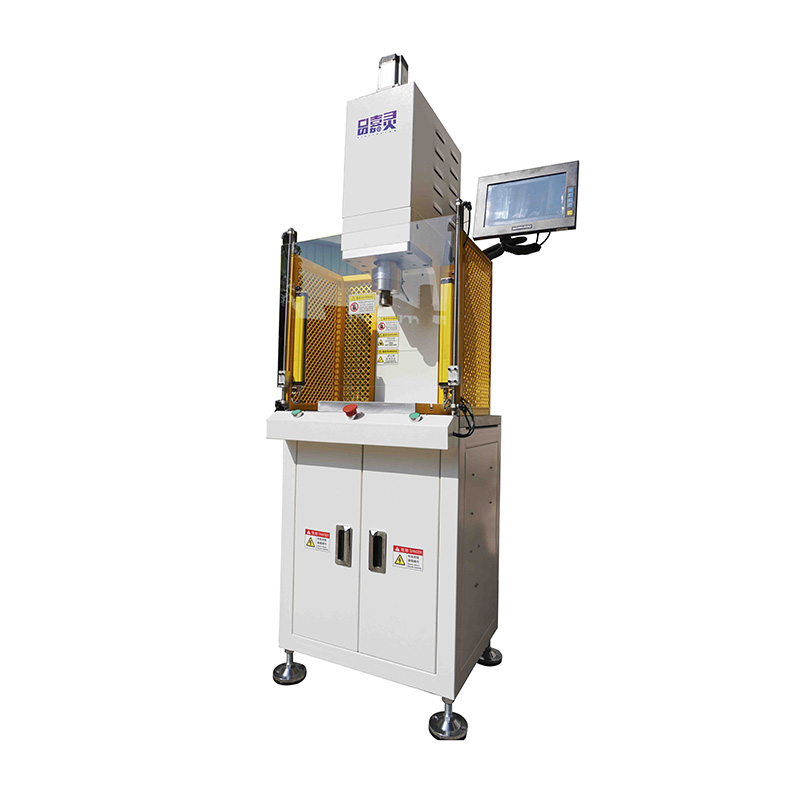 | | | | | | | | | | | | | | |
| --- | --- | --- | --- | --- | --- | --- | --- | --- | --- | --- | --- | --- | --- |
| Model | Maximum pressure (KN) | Frequent trip (mm) | Force resolution (mm) | Displacement resolution (mm) | Weight is about (kg) | Maximum speed (mm / s) | Repair speed (mm / s) | Pressure range (KN) | Boot time (s) | Positioning accuracy (mm) | Pressure accuracy (% F.S) | Closed mode height (mm) | Throat (mm) |
| PJL-C-0.5T/1T/2T | 0.5/1/2 | 100-150 | 0.005 | 0.001 | 80 | 150 | 0.01-35 | 25N-5KN | 0.1-200 | ±0.01 | 0.5 | 250 | 120 |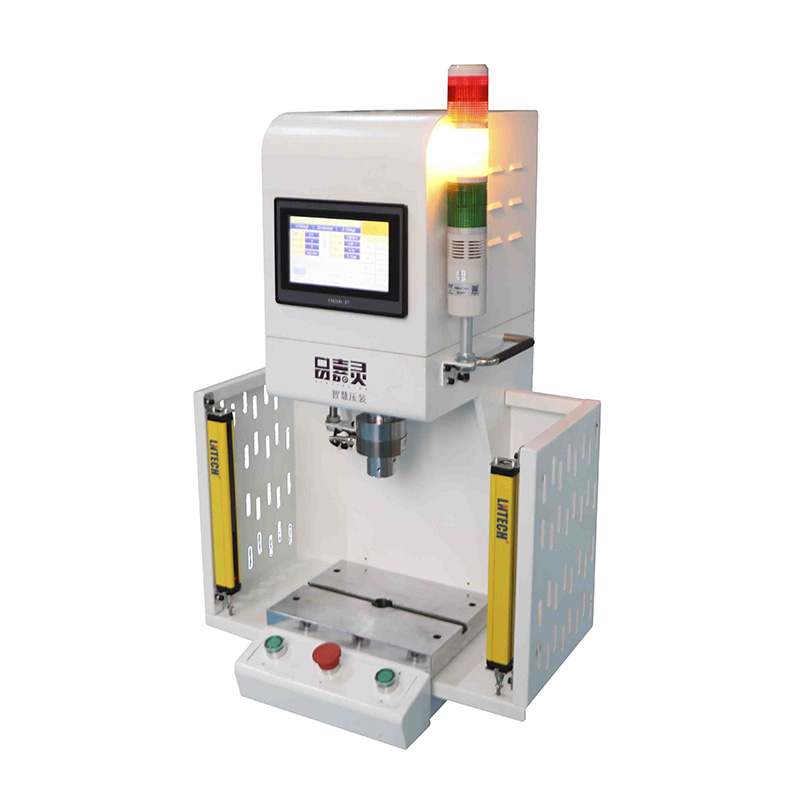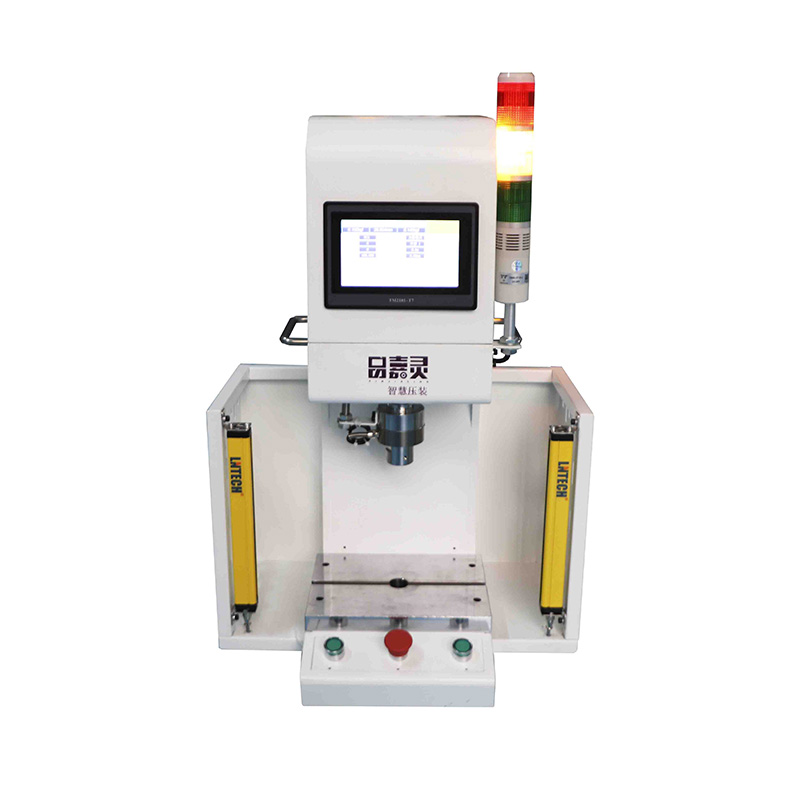 ISO9001, TS16949 and other standard requirements.
The main board is connected to the computer host, data storage, upload faster, realizing product press data.
Press system control
1. High equipment precision, efficient energy-saving and environmental protection.
2. Voltage pressure mode is diverse: optional pressure control, position control, multi-segment control.
3. Software real-time acquisition, analysis, record storage compressed data, data acquisition frequency is up to 1000 times / sec.
4. The software has an envelope function, which can set the product load range or displacement range as required. If real-time data do not automatically alarm within the scope, 100% real-time recognition of bad products, and realize online quality control.
5. The device configures the computer host, the Windows operating system, the press control system operation interface in English free to switch.
6. Specify the optimized pressing process according to the specific product requirements.
7. With complete, accurate job procedure record, analysis function. (The curve has functions that amplify, traversal, etc.)
8. Multiple data format export, Excel, Word, data easy to import SPC and other data analysis systems.
9. Self-diagnosis function: equipment failure, servo press can display error message, and prompt the solution, convenient find out the problem quickly and resolve.
10. Multi-function I / O communication interface: through this interface can be communicated with external equipment, easy to fully automate.
• Automotive engine, transmission shaft, steering gear, etc.
• Electronic products precision press
• Imaging technology core components precision press
• Motor bearing precision press application
• Precision pressure detection such as spring performance test
• Automated assembly line application
• Aerospace core component press application
• Medical, electric tool assembly assembly
• Other occasions that require precision pressure assembly
Equipment main body: is the four-pillar structure rack, the workbench is the solid board, the body is used by aluminum profile frame plus acrylic plate, the base uses a high-strength welding frame to add a plate paint; carbon steel metal plating hard chrome, painted oil Waiting for rust treatment. Body structure: The use of four column structures, simple and reliable, strong load carrying capacity, small bearing deformation, is one of the most stable and widely used fuselage agencies.
---
Previous:
China OEM Mirror Polishing Machine 8k Manufacturers - Fully automatic square tube polishing machine – HaoHan
---
Write your message here and send it to us